Attending Mass at St. Anthony
Atlanta Archbishop Gregory Hartmayer has allowed parish to welcome worshippers back. We do the same, cautiously, prudently, and with joy.
For public health reasons, Mass will look very different. First, it'll be much smaller congregation for the time being and new guidelines will be in place. We do so to limit any risk to our health.
We will require a reservation to ensure everyone who attends has a place to sit that is safe and at least six feet apart from others. If you'd like to attend, please click here to reserve a ticket.
​Please join us on our online Mass if you have a compromised immune system or are in a high-risk medical category, such as  
Over 60
Diabetes/Asthma/Severe obesity
Serious heart conditions/Hemoglobin Disorders/Chronic lung disease
Check with your medical provider if you have any concerns.
Stay home, if you think you have been around someone with COVID or been sick in the past 21 days. Or if you have
A temperature above 100.4 F
Cough or sore throat
Shortness of breath
Recent loss of smell or taste
Chills
New muscle aches​​
Mass will seem different, but it remains our worship. We'll share with you a list of things to do and bring to attend Mass when you have reserved a seat. Such as, be in the parking lot Saturday by 4:25 p.m., bring a mask to wear for everyone over the age of 2, you will have your temperature scanned, there will be no contact at Mass. Holy communion will be distributed on the hand.
Please look in the church bulletin for the complete list of guidelines. And if you have any questions or concerns, please be in touch with the St. Anthony staff so they can guide you.
---
Please add this prayer – Prayer during the Coronavirus Crisis – to your spiritual toolkit. You may find it helpful to print and put it in your prayer corner.
Coronavirus-Prayer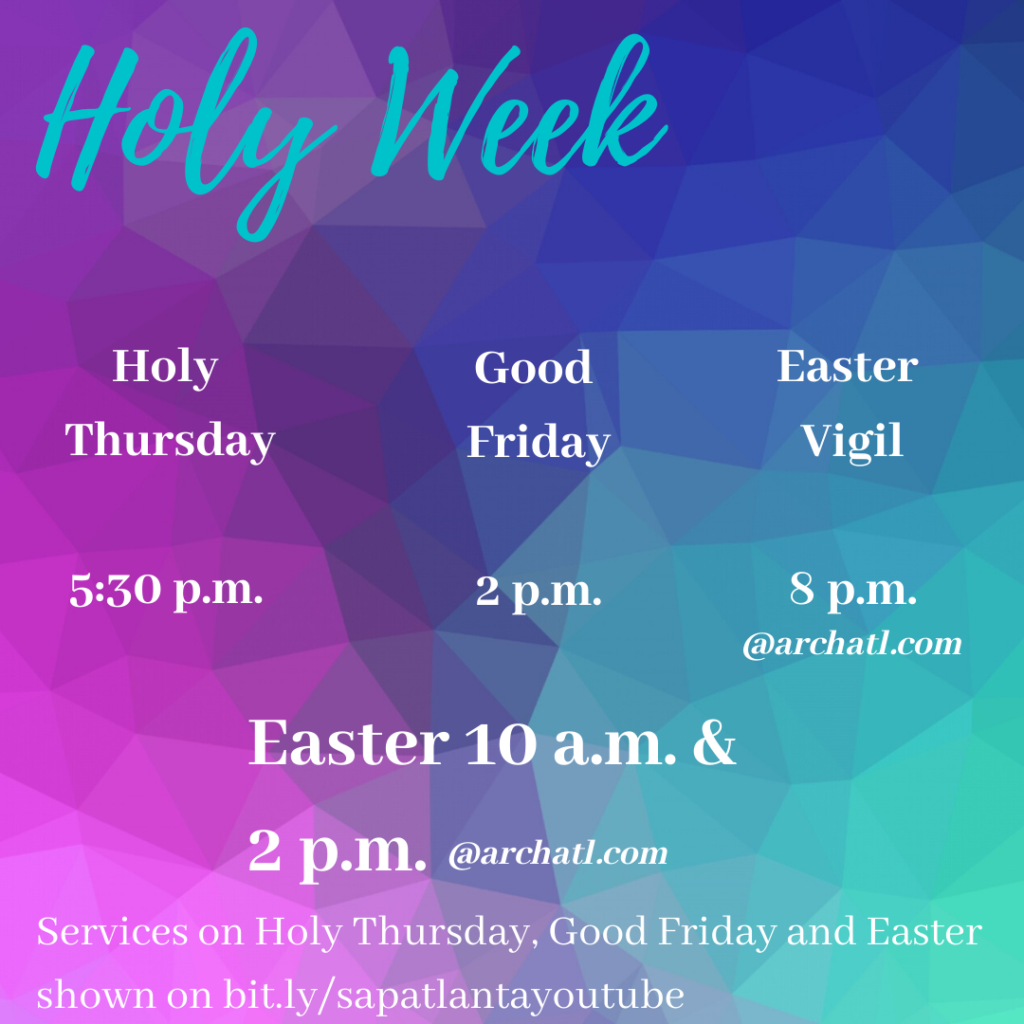 ---
Holy Week: Palm Sunday
Palm_Sunday_at_Home

---
COVID-19 may have stopped our everyday lives. But we have volunteers willing to serve our community and you.
---
March 21:
On Sunday, March 22, around 10 a.m, the parish will celebrate Mass virtually. Father Vic will lead us in prayer. The program will be shown on the parish Youtube channel, which you can find by clicking here.
---
Given the public health emergency in Georgia and the guidance of the Archdiocese of Atlanta, effectively immediately all Masses, meetings, and activities of St. Anthony of Padua Church are suspended until further notice.
We are sad to have to make this decision. We will make every effort to share resources with you to stay connected to your fellow parishioners.
---
If someone asks why your church chose to respond to this health crisis by closing its doors, here's my response:
We are loving our neighbors by protecting our neighbors.
We are not being fearful. We are being responsible.
This is what love requires of us in this season.
From Northpoint Church
---
There are many resources to help fill your spiritual needs. Father Vic and members of the parish are working to provide those to you. Here is a list of Atlanta area parishes providing online streaming or broadcasting to view Sunday Mass.
Here's another service that offers Sunday Mass at 11 a.m. from Catholic Extension.
Masses-in-the-Archdiocese-of-Atlanta-broadcast-online-Sheet1-1