St. Anthony of Padua Gatherings
Atlanta Archbishop Gregory Hartmayer announced we may welcome worshippers back.
We do so, cautiously, prudently, and with joy.  
IN-PERSON MASS. We look forward to seeing you at our outdoor liturgy Sundays 8:30 AM. Through late-September 2021, we will gather across the street from the Church in the parking lot of 951 Ralph David Abernathy Blvd. Parking at the Lyke Center is reserved for those with mobility challenges. See map below for parking options.
Bring your own chairs.
Masks are required.
Sit 6 feet apart from others not in your family group.
Rain or shine! Remember those paper fans and umbrellas.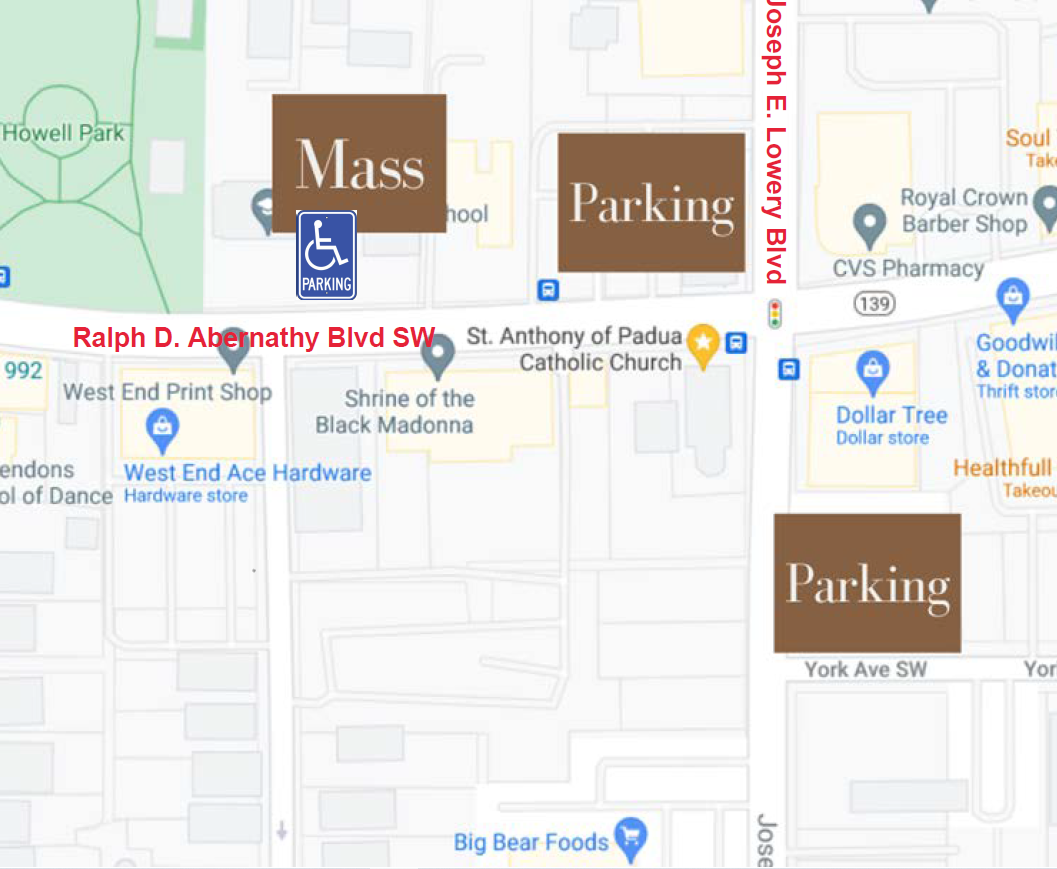 ONLINE MASS. ​Please join us on our online Mass if you have a compromised immune system or are in a high-risk medical category and are unvaccinated. We welcome you and those joining from cities across the country.
In order to protect our Parish Family, please stay home if you think you have been around someone with COVID; have been sick recently; have a temperature above 100.4 F; have a cough or sore throat; shortness of breath; recent loss of smell or taste; chills; new muscle aches​​. And if you have any questions or concerns, please consult your health care professional or be in touch with the St. Anthony staff so they can guide you
MEETINGS. In-person gatherings St. Anthony of Padua Church are limited due to renovations. Check with organization leadership for gathering information. We will make every effort to share resources with you to stay connected to your fellow parishioners.
Please add this prayer – Prayer during the Coronavirus Crisis – to your spiritual toolkit. You may find it helpful to print and put it in your prayer corner.
RESOURCES. There are many resources to help fill your spiritual needs. Father Vic and members of the parish are working to provide those to you. Here is a list of Atlanta area parishes providing online streaming or broadcasting to view Sunday Mass. Here's another service that offers Sunday Mass at 11 a.m. from Catholic Extension.
If someone asks why your church chose to respond to this health crisis by limited gatherings with social distance and mask requirements, here is how you might respond:
We are loving our neighbors by protecting our neighbors.
We are not being fearful. We are being responsible.
This is what love requires of us in this season.
The church is under renovations until mid-September 2021.
Adapted from Northpoint Church