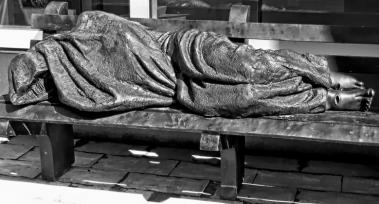 Artist Timothy Schmalz was inspired to create his "Jesus the Homeless" bronze sculpture by the biblical scripture Matthew 25:43 "a stranger and you gave me no welcome, naked and you gave me no clothing, ill and in prison, and you did not care for me." The imagery of the bronze sculpture depicts Jesus lying on a bench under a blanket with his pierced feet exposed to nature's elements and the passersby.
This Advent Season, let us take the time individually, as a family, and parish community to discern our personal "sin(s) of omission" as it relates to our Catholic "Corporal Works of Mercy" (particularly to "shelter the homeless").
Born in a modest manger, Jesus was born, lived, and died as a homeless person. In today's world, how do you personally respond to our parish's homeless community? How would you have responded if Joseph and Mary reached out to you or knocked on your door in search of shelter?
Let your deeds, words, and prayers be an act of God's love and mercy to our neighbors in need.
UPDATE from Catholic News Service: In late November, Pope Francis blessed the sculpture at one of his weekly general audiences in front of thousands of eager pilgrims. The pontiff touched the knee of the sculpture and prayed for a few moments. Afterward, he told Schmalz he thought the sculpture was a "beautiful piece of art."
A year ago, the  bronze sculpture "Jesus the Homeless" had been rejected by St. Patrick's Cathedral in New York and St. Michael's Cathedral in Toronto.
Sybil Robinson – Outreach Ministry